When

Thursday March 8, 2018
Grand Raffle/Silent Auction begins at 10:30 AM
Program begins promptly at 12:00 PM EDT

Where

Cultural Center for the Arts
1001 Market Avenue N
Canton, Ohio 44702
---
Keynote Speaker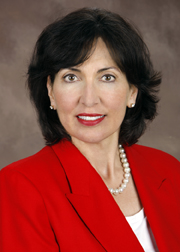 PARA M. JONES, Ph.D.
President, Stark State College
Para M. Jones, Ph.D. has been President of Stark State College since 2012. She also served as President of Spartanburg Community College in South Carolina. The majority of Dr. Jones's 30-year community college career has been in Northeast Ohio and at Stark State, where she led advancement, marketing, legislative relations, fundraising, grants, student services, admissions, career development and institutional research and planning. She has taught online and on-the-ground business classes at Stark State and in Ashland University's MBA program.
Prior to academe, she worked in corporate marketing and communications for Roadway Express and as a technical editor for Goodyear Aerospace.
Dr. Jones's passion for the community college mission is driven by her belief that students are best served by affordable, quality education that leads to rewarding careers.
Dr. Jones holds a PhD from the University of Nebraska, an MBA with honors from Ashland University and a bachelor's degree magna cum laude from the University of Mount Union.
Among the many professional and community-based organizations she serves, Dr. Jones chairs the Presidents' Council of the Ohio Association of Community Colleges (OACC), serves on the Executive Board of the Greater Akron Chamber of Commerce and several regional boards, including Akron Urban League, Conxus, MAGNET (Manufacturing Advocacy and Growth Network), NOCHE (Northeast Ohio Council on Higher Education), Stark Development Board and Canton Regional Chamber of Commerce.
She also is a member of the National Association of Manufacturers (NAM) Education Council in Washington, DC and TeamNEO's Business Development Council.
She is an ATHENA award recipient.
Dr. Jones and her husband Greg live in Canton, where they raised their twin sons, Christopher, who practices law in Cincinnati; and Kyle, who is in the MBA program in the Stern School of Business at NYU. They are grandparents of twin girls, Charlotte and Madeline.
---
---
You won't want to miss the JRC 22nd Annual Women in History Luncheon, "Laying the Foundation, Building a Future, Celebrating the Generations," on March 8, 2018 from 10:30am - 1:00pm at the Cultural Center for the Arts! The silent auction will, once again, have lots of fantastic items. You will be able to bid within the following categories: Home; Women's; Men's; Jewelry and Children's!