Where

Cultural Center for the Arts
1001 Market Avenue N
Canton, Ohio 44702

When

Thursday March 8, 2018
Grand Raffle/Silent Auction begins at 10:30 AM
Program begins promptly at 12:00 PM EDT

Thank you for considering a Sponsorship!
WITH YOU...children , seniors and families of our community can be inspired and empowered to achieve their fullest potential everyday!
---
Keynote Speaker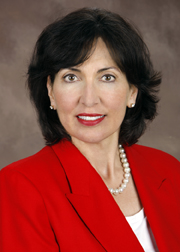 PARA M. JONES, Ph.D.
President, Stark State College
Para M. Jones, Ph.D. has been President of Stark State College since 2012. She also served as President of Spartanburg Community College in South Carolina. The majority of Dr. Jones's 30-year community college career has been in Northeast Ohio and at Stark State, where she led advancement, marketing, legislative relations, fundraising, grants, student services, admissions, career development and institutional research and planning. She has taught online and on-the-ground business classes at Stark State and in Ashland University's MBA program.
Prior to academe, she worked in corporate marketing and communications for Roadway Express and as a technical editor for Goodyear Aerospace.
Dr. Jones's passion for the community college mission is driven by her belief that students are best served by affordable, quality education that leads to rewarding careers.
Dr. Jones holds a PhD from the University of Nebraska, an MBA with honors from Ashland University and a bachelor's degree magna cum laude from the University of Mount Union.
Among the many professional and community-based organizations she serves, Dr. Jones chairs the Presidents' Council of the Ohio Association of Community Colleges (OACC), serves on the Executive Board of the Greater Akron Chamber of Commerce and several regional boards, including Akron Urban League, Conxus, MAGNET (Manufacturing Advocacy and Growth Network), NOCHE (Northeast Ohio Council on Higher Education), Stark Development Board and Canton Regional Chamber of Commerce.
She also is a member of the National Association of Manufacturers (NAM) Education Council in Washington, DC and TeamNEO's Business Development Council.
She is an ATHENA award recipient.
Dr. Jones and her husband Greg live in Canton, where they raised their twin sons, Christopher, who practices law in Cincinnati; and Kyle, who is in the MBA program in the Stern School of Business at NYU. They are grandparents of twin girls, Charlotte and Madeline.
2018 Women in History Luncheon Honorees
Denise Scala

Denise Scala's many achievements include the American Red Cross Stark County Chapter, Stark County Library Foundation, Shared Blessings, Canton Central Catholic High School, St. Michael's Church, Massillon Lincoln Theatre, and Akron Children's Hospital Doggie Brigade. She has a Bachelor of Science in Nursing from the University of Akron and has practiced in the areas of labor and delivery, cardio-thorasic surgery and school health. Denise is married to husband Christopher. They have two children, Celina who is a clinical dietician in the NICU at Akron Children's Hospital and Nick, who is an attorney in Washington DC, practicing in the area of labor law. She has served on the Women in History Committee since 2012 and finds the work JRC is doing, to care for and teach the children and support their families, inspiring.

Kathy Strong

Kathy Strong started her career association with Father Coleman in 1974 at St. Paul's Catholic church in Canton. She served in administrative and management roles until 1987 when she was named Executive Director following Father Coleman's death and served in that role until her retirement in 2010. Kathy initiated a wide variety of community revitalization projects resulting in more than $10 million in investments in the northeast Canton community. She has served as president of the Plain Township Rotary, Stark County Legal Aid, and Community Services of Stark County. She chaired the first strategic plan for Leadership Stark County and in 2011 chaired the SARTA levy campaign. Kathy is a graduate of Malone College. She is married to husband Glen and has a son, Erin.
---
2018 Women in History Luncheon Grand Raffle Prizes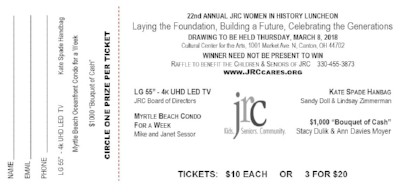 Magnificent Myrtle Beach Condo for a Week

This beautiful 2 bedroom - 2 bath ocean-front condo is located in the Jasmine Tower of luxurious North Beach Plantation. The living room has a 55" flatscreen tv in the living room, a fully-equipped kitchen and washer/dryer. You will enjoy breathtaking views of the ocean from your private walk-out balcony. Amenities include a fitness center, spa, hot tub, fine dining and refreshing pools!
Weeks available are:
Sunday March 25 - April 1
Sunday September 23 - 20
Sunday September 30 - October 7
Sunday October 7 - 14
OR
Celebrate New Years 2019 December 30, 2018 - January 5, 2019

-Donated by Janet and Mike Sessor

Kate Spade Designer Handbag

8.8"h x 10.7"w
A beautiful black crosshatched leather, imported satchel with 14 Karat Gold Plated Hardware.

-donated by Sandy Doll and Lindsay Zimmerman

LG 55" 4k UHD HDR LED TV

Discover how the 4K Ultra HD TV from LG will change the way you view everything.

LG's 4K UHD TV delivers four times the resolution of a standard HD TV, offering a bigger, bolder and more lifelike TV viewing experience.

-donated by the JRC Board of Directors

Dyson Cordless Vacuum

- donated by Sandy Doll and Lindsay Zimmerman

$1000 Bouquet of Cash

Who couldn't use a little spending money?

-Donated by Stacy Dulik and Ann Davies Moyer
---
You won't want to miss the JRC 22nd Annual Women in History Luncheon, "Laying the Foundation, Building a Future, Celebrating the Generations," on March 8, 2018 at the Cultural Center for the Arts! Door open at 10:30 am and the program will begin at noon. The silent auction will have lots of fabulous items on which to bid within the following categories: Home; Women; Men; Jewelry and Children.